WHAT

YOU GET
Health Kit

Our algorithms design a custom serum for you based on a comprehensive analysis of your skin's condition.

Serum

Your serum is designed to fit into your existing routine. We take into account your current products, any allergies or prescriptions.

Tracking and Adapting

Each month we adapt your serum formulation so that your skin always gets what it needs, no matter what life throws at you.
Serums formula helps addresses many skin issues including:
Sun Damage
Dryness / Flakiness
Redness / Dark Spots
Breakouts
Congestion / Blackheads
Wrinkles / Fine Lines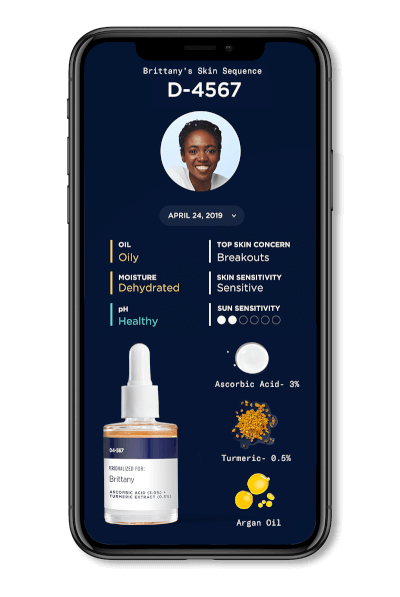 We measure and track the many factors that impact your skin health.
Environment

▼

Our algorithm takes your environment into account, factoring in your exposure to UV light, pollution, humidity, and even blue light from your phone and computer screens.

Lifestyle

▼

As our largest organ, the skin is deeply affected by our overall health and wellbeing. That's why we look at your water intake, diet, sleep, and exercise.

Mood and Stress

▼

Hormones and stress levels can impact your skin health too. We'll look at trends on how these factors affect your skin and adapt your formulation accordingly.

pH

▼

Your skin's pH can offer a window into how effective your skin barrier is (susceptibility to bacteria, allergens, and pollution). By tracking your skin's pH, we make sure your skincare routine helps you stay in the optimal range of 4.5 - 6.0.

Oil

▼

Your skin needs oil to function properly, but in excess, it can lead to other problems. Your oil measurements help us select the best ingredients to keep your skin balanced.
THE BEST

& NATURAL

Ingredients
We use the very best, research-backed ingredients chosen by dermatologists. But far more importantly, we use them in just the right formula for you. You need to use just the right ones at the amount that is safe and effective for your skin.
SEE INGREDIENTS LIST

⟶
Avacado

Rumex Occidentalis

Diacetyl Boldine

Rosehip Seed

Irish Moss Extract

Radish Seed Extract